Work That Moves You
When people expect that you will do a good job, there's usually not much fanfare when you are done, 
it's just simply what they expected.
But when you do an exceptional job, people can't help but sing your praises.
We are proud to provide our exceptional service at a great price that brings back the kinds of memories that fill your heart.
Here are just a few of our customers that have been moved by our work.
---
HUGE Emotional Impact
Jim,
If I had to sum it up, you offer a service in which the ratio of technical neutrality to emotional impact is HUGE. It's just an audio transfer, true… well done, reliable, fairly priced.
But what I heard? The voices of my grandfather and grandmother recording birthday greetings to my mother (now deceased) back in September 1965, when I was 10 months old.
I have never heard my grandfather's voice. Until now.
---
Sounds Amazing!
Hi Susan. I wanted you to know that the tape and thumb drive arrived safely. The audio file sounds amazing! I was able to listen to the whole thing, and I don't think I missed anything on it. It was all very, very clear.
thank you so much-
Sharon
---
Great To Work With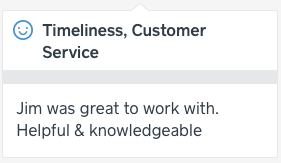 ---
Customer For Life
These guys are great! I had two cassette tapes from 1973 that I had recorded when I was in 8th grade. They were interviews with my grandparents and great-grandfather. I had been meaning to get this done for about 25 years, and finally got around to it.
I was afraid the tapes might not be any good, and was nervous nothing could be done to restore them. Fortunately this was not the issue. It brought tears to my eyes to be able to hear my grandfather, grandmother and great-grandfather's voices again after all these years.
I had extra CD's made for my mom (these were her parents and grandfather) who is 81, and for my younger brother. This will be a Christmas present they were not expecting. I am absolutely thrilled with the service and the product that Speak House Audio provided. They have a customer for life.
Joe
---
Top Rated

I highly recommend Speak House Audio. They are efficient in what they do and pay close attention to detail.
This company is top rated in my book.
---
High Quality Work
.
I received my cassette tapes back today along with the thumb drives and I dashed to the computer to see what they sounded like. They are fantastic and well labeled!
Thank you so much for your speedy and high quality work. I am so excited to relive old memories over Christmas this year. My family will love it! Thank you!
Heather
---
Bringing Back Those Memories!
The last set of tapes has been received.
Although the previous material is enjoyed, this last set is from the stuff I remember so well, even after 50 years, that I can almost guess what song is coming next. It's pretty much a trip.
Thanks for your and Jim's service in bringing back those memories!
More tapes will be on their way.
Steve
Chillicothe, MO
---
Above And Beyond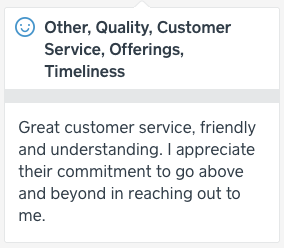 ---
Gold Bar Industry Standard
.
Quality, Timeliness, Offerings, Customer Service
.
---
Forever Thankful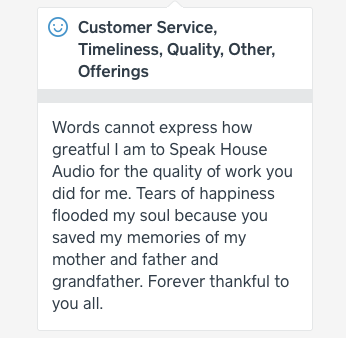 Sandy
Union Grove, AL
---
A Walk Back In Time
Thank you very much. This little tape tells a story! I listened to the whole thing and I love it!! A walk back in time.
Kathryn
Hyde Park, NY
---
Very Happy
I received the CD on Saturday and I am very happy. The quality was wonderful.
I will be sure to highly recommend you to everyone  I know. 
---
Quality, Customer Service, Timeliness Offerings
Susan your responses to me have been truly exceptional and we thank you so much for the privilege of doing business with folks who inspire such confidence. ?
UPDATE:
Susan, I just opened the package of tapes (so neatly packaged!) and immediately plugged in the flash drive with recordings and was truly blown away with excitement at the detailed documentation for each audio file and the excellent quality of the audio – some of which are 52 years old!!!
I am looking forward with eager excitement to exploring and reliving some precious memories and thank you and your company for the truly phenomenal service you have provided.
I am truly grateful to have been directed to contact you!!
Rev. Johann
Spokane, WA
---
The quality is excellent!
Thank you so much for the excellent job of transferring my reel-to-reel tapes to CDs. The quality is excellent. These memories have been locked up for over 50 years and it was wonderful to hear them again. Thank you!
Geraldine
Seville, OH
---
DISCS ARE GREAT!!
Package arrived… 
Thank you so much for your great work!
The Nu 4 & Don Hager Quintet discs were the best..
Dad's accordion music was a real treat…  The lady singing sounds 
like my Mom.. (Wow).  
The rest sound like some of my student's 
piano lessons..    Weird…    ALL wonderful though.   Happy Easter.
---
Sounds Wonderful!
Got the package today! It sounds wonderful! Thank you so much! My mom will love this and we will both cherish it!!
---
Happy Tears!
Hi Susan,
I've been crying happy tears all day!! I rec'd the CDs and of the 8, the first two have my mom singing and talking – the other 6 are the 8mm reel versions of mixtapes! LOL!
I never thought I would hear her sweet voice again! I can't thank you enough! Amazing job to you and your team and I'm happy to recommend you to everyone that asks where I got this done.
Have a great weekend and thanks again!
Tom
---
Very Impressed
Susan,
Thank you!  We have been very impressed by your business practices and will forward your business card to others.
 Jone
Coralville, IA
---
Fond Memories
SUSAN ,
RECEIVED PACKAGE YESTERDAY . LISTENED TO IT & REALLY BROUGHT BACK FOND MEMORIES .
BOTH MY PARENTS HAVE DIED AS HAS MY FIRST WIFE AFTER 48 YEARS OF MARRIAGE . I CAN HARDLY WAIT UNTIL I CAN GET THE CDS TO MY 6 CHILDREN & 12 GRANDCHILDREN . THANKS AGAIN FOR MAKING ME VERY HAPPY .
ONE HAPPY CUSTOMER , 
CRAIG H. 
HUNTSVILLE, TX
---
Great Service
Good morning Susan,
I have received the tapes and memory sticks here in the Dominican Republic, the audio sounds great. Thank you very much for the great service and quick response.
Kind regards,
Richard N.
Dominican Republic
---
Impressive Packaging
SUSAN,
 FYI.  I PICKED UP THE PACKAGE OF CDS YESTERDAY AFTERNOON.  I HAVE NOT LISTENED TO ANY OF THEM YET BUT I WAS IMPRESSED WITH THE PACKAGING AND THE NICE PLASTIC COVERS FOR THE CDS.
 THANKS,
 DOUG C.
SWEET GRASS, MT
---
Sparking Emotion
Hi Susan,
I just wanted you to know, I received the package today.  Thanks so much. The sound quality was so much better than I expected.  My husband died in 1986 at age 42.  I have not heard his voice since then so you can imagine how emotional it was for me today to listen to those tapes.  I will treasure them.   If you could make me another copy of both I would appreciate it. 
Thanks again,
Judy R.
Cave Creek, AZ
---
Working Great!
Hello Susan! Haven't spoken to you for some time now but the tapes/cds are working great! Thank you, AGAIN.

Peter H. of Maple Grove, MN

---
Professional Handling
Thank you. 
I have downloaded the files and will try to listen to them over the weekend. Appreciate your prompt, professional handling.
— Jacques L.
Irvine, Ca
---
Excellent Customer Service!
Good Morning Susan,
 
Thank you for the update.
 
I really appreciate your excellent customer service!
 
Thanks again and have a GREAT day!
KC

Prescott, AZ
---
Great Work!
.
Hi Susan:
Got the CD's and listened to them and the quality was wonderful! I loved hearing my Dad and Mom, Uncles and Aunts, all who have gone HOME now 🙂 They were all in their 40″s on that recording, I sure miss them!!  I have to tell you, though, I was embarrassed when I heard the recording that I made "Diane" when I was 17… wow! Please tell whoever had to hear that, I'm sorry, that was very sad and perhaps painful to listen too. Shortly after that time I rededicated my life to the Lord and so much changed for me and still does 🙂
The guy, Steve, who they were recording for, was stationed in Vietnam (1968) and his family and our family were very close, so my Dad wanted to cheer him up and that's why he decided to turn on the recorder.  Anyway, since I've heard the CD's, that's a little background for you.
Thanks again, Susan for such great work and wonderful customer service!
Have a great one,
Diane
Manassas, VA
---
Naval Memories 
Susan,

Many thanks for the very nice way you handled my order. I played the CD on the 50th anniversary of the day I had recorded one of the tapes.  

I have added this memory to my navy pictures and digitized 8mm movies. I'm sure you derive great satisfaction helping folks with their past recordings.

Also thanks for the pen.

Sidney

East Dundee, IL
---
Coming Back For More
Hello Susan,
I am so happy with the CD—so interesting to hear how my voice sounded 50 years ago!
Yesterday I found another tape in my papers and I am not certain if it has my singing on it.
I am sending it to you today.  Would you please let me know if there is in fact singing on it and if so please do another CD.
Regards,
Ursula
Danvers, MA
---
Fine Work and Great Customer Service
Hello Susan – and thank you for your responses to my emails.  You are very responsive.
I appreciate all the fine work of your company, as well as your great customer service.
Steve,
Moorpark, CA
---
Simple Praises
Great job, Jim!
Thanks a bunch.
 Barbara
Oakland, CA
---
GREAT JOB!
SPEAK HOUSE AUDIO did a great job on my project.  Zachary's mom and grandpa will be SO surprised!!  
---